My blog's "Over the Top" according to Madam Jerla of
Tips and Experiences
. Thanks for this one ate Lot, hehe! You inspire me to blog, you know that. And yes you're right, need this for a filler..hihi!
Salamat ayu!!!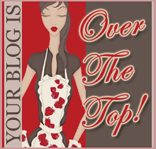 Rules:
1. To receive this award your blog must be exceptional in design and content; presenting us with new knowledge, a sense of style, or at times just giving us a smile!
2. Each recipient of the award will acknowledge the person who honored them with the award and then go to http://overthetopaprons.blogspot.com, copy/paste the award : Your Blog is Over The Top. (located on the right sidebar, scroll down)
.....
Yay, am not done yet. Madam Amy of
Business Matters
said that my blog makes her smile...awww, na touch jud ko! Thanks ate Amz for all your thoughts as always! You make me smile t00.
You're over the top:

Veniz

,

Momshe

,

Pam

,

Heart

,

Meryl

,

Jhelea

,

Melanie

,

SimplyFilipina

, and

YOU

! Yes, ya'll make me smile!