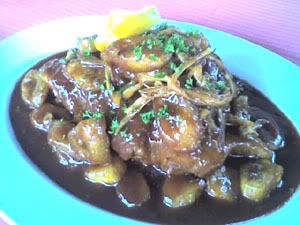 It's one of my favorite ulam in the world!!! My family too. Every time there's an occasion or even just trip lang, humba always stars in the dining table,LOL! My lola Juliet, she makes the best humba in the world! It's her specialty, and it's soooooo yummy!!! Modesty aside, I'm blessed to have a clan of good cooks, from kalola-lolaan, until my generation...haha! So when
ate shei and ate lot
got married and went to the states, too bad for them they will miss humba soo much..huhu! Hehe... so manang, here's the recipe you've been asking for! We've already sent you some banana flower and dried mushroom, so sa gabi ug tumon nalang ka mag nosebleed ug pangita! hehehe!
Ingredients:
2 kls. pork ( best if pork belly, or basta kanang naay tambok-tambok,hehe)
1 can black beans
mushroom
banana flower (1/3 or 1/4)
pineapple slices and the juice
brown sugar
soy sauce and vinegar
garlic and onions
pepper corn (ang liso, dli powder..hehe)
sliced saba and tumon or gabi (ang size should be same as the pork slices)
Procedure:
in a casserole (kaldero, kanang baga-baga arun dili modukot) put the tumon slices first, (murag ihanig ba) then the pork. Then put 3-4 cups of water, and all the remaining ingredients. The soy sauce and vinegar depends upon your desired taste. Basta it should be a little sweet, and sour and salty. Bring it to boil. When it's boiling, turn the heat lower. (hinayan ang kalayo ate, pra dli modukot) Cook until very tender. Do not mix it, just make sure dli maughan ang tubig ug dli modukot (ayaw sagula jud ate hah, basta igo lang hinayun pag mix) this is the secret for the yummiest humba! Season with salt and other anik-anik,( depends upon you, sa imo panlasa paunsa molami, hehe!) and the sauce of the black beans, put some too. (sabaw sa black beans te..) then finally if it's cooked and very tender already, finish na!..hehe, put spring onions, but optional..(actually we don't put it na, it's unnescessary)
Finish, hmmmm....sarap! and the nice thing about humba, dugay sya mapanis...!
So ate, it's up to you na hah, make it the best! LOL!